Overview
SFP+ Direct Attach Copper Cable, also known as Twinax Cable, is an SFP+ cable assembly used in rack connections between servers and switches. It consists of a high speed copper cable and two SFP+ copper modules. The SFP+ copper modules allow hardware manufactures to achieve high port density, configurability and utilization at a very low cost and reduced power budget.
Direct Attach Cable assemblies are a high speed, cost-effective alternative to fiber optic cables in 10Gb Ethernet, 8Gb Fibre Channel and InfiniBand applications. They are suitable for short distances, making them ideal for highly cost-effective networking connectivity within a rack and between adjacent racks. They enable hardware OEMs and data center operators to achieve high port density and configurability at a low cost and reduced power requirement.
Compufox SFP+ copper cable assemblies meet the industry MSA for signal integrity performance. The cables are hot-removable and hot-insertable: You can remove and replace them without powering off the switch or disrupting switch functions. A cable comprises a low-voltage cable assembly that connects directly into two SFP+ ports, one at each end of the cable. The cables use high-performance integrated duplex serial data links for bidirectional communication and are designed for data rates of up to 10 Gbps.
Types of SFP+ Direct Attach Copper Cables
SFP+ Direct Attach Copper Cable assemblies generally have two types which are Passive and Active versions.


SFP+ Passive Copper Cable
SFP+ passive copper cable assemblies offer high-speed connectivity between active equipment with SFP+ ports. The passive assemblies are compatible with hubs, switches, routers, servers, and network interface cards (NICs) from leading electronics manufacturers like Cisco, Juniper, etc.
SFP+ Active Copper Cable
SFP+ active copper cable assemblies contain low power circuitry in the connector to boost the signal and are driven from the port without additional power requirements. The active version provides a low cost alternative to optical transceivers, and are generally used for end of row or middle of row data center architectures for interconnect distances of up to 15 meters.
Applications of SFP+ Direct Attach Copper Cables
-Networking – servers, routers and hubs
-Enterprise storage
-Telecommunication equipment
-Network Interface Cards (NICs)
-10Gb Ethernet and Gigabit Ethernet (IEEE802.3ae)
-Fibre Channel over Ethernet: 1, 2, 4 and 8G
-InfiniBand standard SDR (2.5Gbps), DDR (5Gbps), and QDR (10Gbps)
-Serial data transmission
-High capacity I/O in Storage Area Networks, Network Attached Storage, and Storage Servers
-Switched fabric I/O such as ultra high bandwidth switches and routers
-Data center cabling infrastructure
-High density connections between networking equipment
Compufox SFP+ Direct Attach Copper Cables Solution
Compufox SFP+ twinax copper cables are avaliable with custom version and brand compatible version. All of them are 100% compatible with major brands like Cisco, HP, Juniper, Enterasys, Extreme, H3C and so on. If you want to order high quality compatible SFP+ cables and get worldwide delivery, we are your best choice.
For instance, our compatible Cisco SFP+ Copper Twinax direct-attach cables are suitable for very short distances and offer a cost-effective way to connect within racks and across adjacent racks. We can provide both passive Twinax cables in lengths of 1, 3 and 5 meters, and active Twinax cables in lengths of 7 and 10 meters. (Tips: The lengths can be customized up to the customers' requirements.)
Features
-1m/3m/5m/7m/10m/12m available
-RoHS Compatible
-Enhanced EMI suppression
-Low power consumption
-Compatible to SFP+ MSA
-Hot-pluggable SFP 20PIN footprint
-Parallel pair cable
-24AWG through 30AWG cable available
-Data rates backward compatible to 1Gbps
-Support serial multi-gigabit data rates up to 10Gbps
-Support for 1x, 2x, 4x and 8x Fibre Channel data rates
-Low cost alternative to fiber optic cable assemblies
-Pull-to-release retractable pin latch
-I/O Connector designed for high speed differential signal applications
-Temperature Range: 0-70°C
-Passive and Active assemblies available (Active Version: Low Power Consumption: < 0.5W Power Supply: +3.3V)
FAQ of Compufox SFP+ Direct Attach Copper Cables
Q: What are the performance requirements for the cable assembly?
A: Our SFP+ copper passive and active cable assemblies meet the signal integrity requirements defined by the industry MSA SFF-8431. We can custom engineer cable assemblies to meet the requirements of a customer's specific system architecture.
Q: Are passive or active cable assemblies required?
A: Passive cables have no signal amplification in the assembly and rely on host system Electronic Dispersion Compensation (EDC) for signal amplification/equalization. Active cable assemblies have signal amplification and equalization built into the assembly. Active cable assemblies are typically used in host systems that do not employ EDC. This solution can be a cost savings to the customer.
Q: What wire gauge is required?
A: We offer SFP+ cable assemblies in wire gauges to support customers' specific cable routing requirements. Smaller wire gauges results in reduced weight, improved airflow and a more flexible cable for ease of routing.
Q: What cable lengths are required?
A: Cable length and wire gauge are related to the performance characteristics of the cable assembly. Longer cable lengths require heavier wire gauge, while shorter cable lengths can utilize a smaller gauge cable.
For all you SFP+ Direct attach cables, please see link below. We carry compatible cables for most major brands.
http://www.compufox.com/SFP_Cables_s/337.htm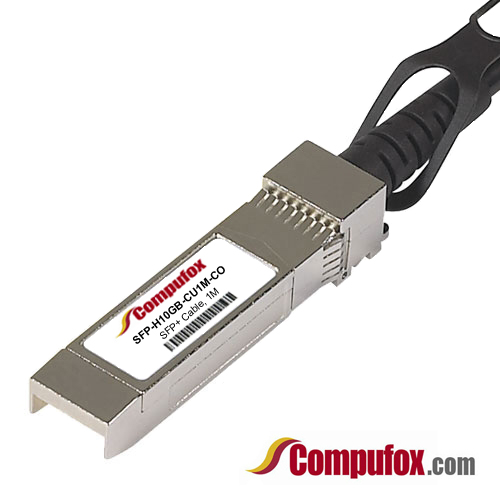 Read more »